I recently attended the 2nd East of England Health Libraries CanDoCafe event.  These events are based on Knowledge Cafe formats – championed by our very own @lawilk.
A small but perfectly formed group gathered in Cambridge.  @ilk21 chaired the day, smoothly and expertly.  Post introductions,  groups discussed the following question
"Given that there is a perception that there are limits to the library's reach within an organisation, how would you create, capture, share, utilise or reuse knowledge in the organisations you serve?"  (Any one who is following this blog and would like to comment will be happy to hear your thoughts).

Points were captured on post it notes.  For photographic evidence go to https://t.co/T4QOx51s9u  Initially I was not sure where to begin with this as a topic – it is such a biggie!  But over gentle discussions with colleagues in my group  we came up with some good ideas.  For example –
creating more partnerships
increasing awareness and profile of the library within the stakeholders
offering  library space as meeting area for groups (Knowledge Cafes, journal clubs etc)
librarians as facilitators to the organisation
libraries offerings spaces/resources/skills for basic numeracy and literacy
Creating a local knowledge directory for new staff/members
Repository for publications
Clearly thought needs to be applied to ensure boundaries with other teams are not crossed and there is no confusion as the library is offering xxxx which is very similar to xxx offered elsewhere.
These group discussions are run on the lines of 'speed dating'.  (As I am reliably informed!)  So when the alarm went off, a number of us moved around the room to continue discussions with other colleagues.
Suitably refreshed – the next discussion topic was;
"How can we work more closely with public libraries , social care and mental health to improve our information provision for patients and the public? Tweet as you talk, using the hashtag #candocafe".
We stayed in our groups to debate this one.  Evidence of the day (including this discussion can be found via Storify of the event.
After lunch the afternoon we shared between 5 colleagues – "Sharing their stories".  first – https://twitter.com/PeterJRansome
Peter spoke about the successful partnership  between health and public libraries for Dementia Awareness Week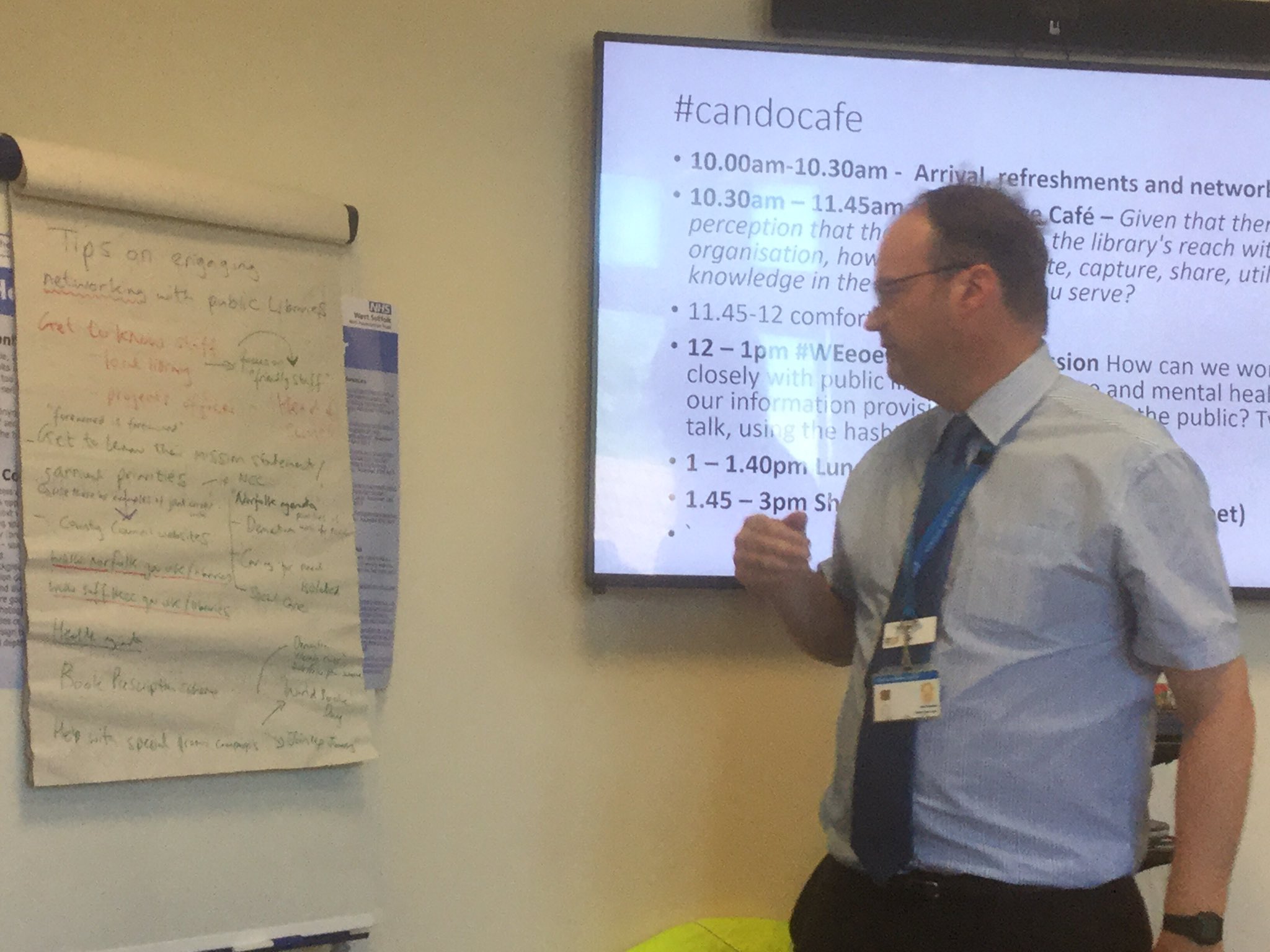 Seek out friendly, supportive staff, use their language, discover who is in charge of health projects.
Isla shared her work with Evidence Aid – Inspiring and enabling those guiding the humanitarian sector to apply an evidence-based approach. Papers/case-studies are provided to volunteers, who then read, synthesize & summarize publications which are then hosted onto Evidence Aids website.
Deborah Lepley (@DebsL72) spoke about project on making trust guidelines and policies easier to find at Mid Essex Hospital.  Great idea, good promotion of what libraries can offer and utilises the skills of library staff.
Penultimate presentation from helen from @wshlibrary talking 'how to make a conference poster.  Excellent presentation – everyone in the room wants a copy of this poster! Useful information on what colours and font types work together (or clash horribly!), landscape is better than portrait.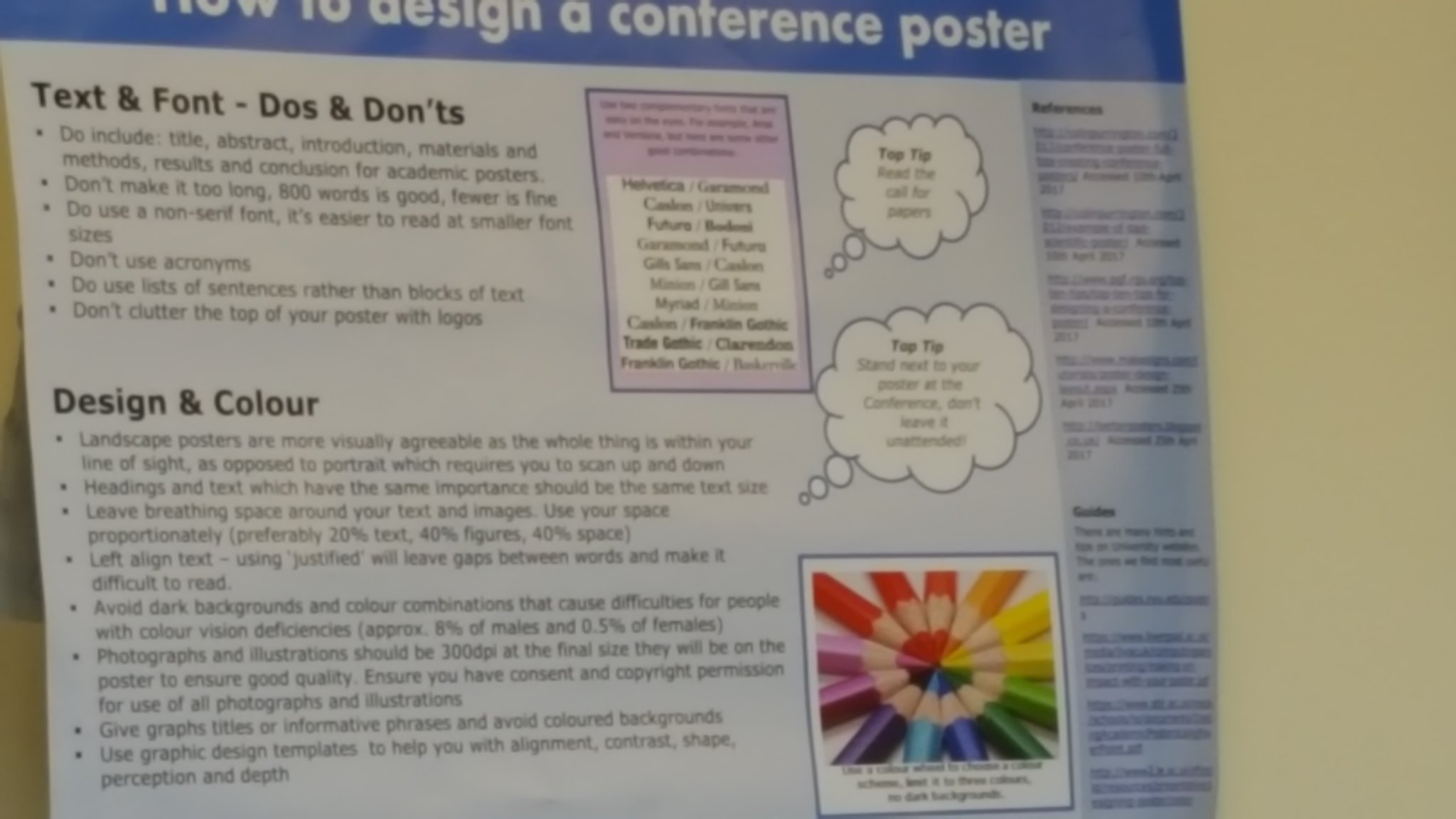 Final presentation was mine – on the positive benefits of moving from a paper book ordering system to using an online method.  Book ordering form is a Google doc.  Responses tabulated in an Excel spreadsheet – meaning more reporting and filtering options, reducing the amount of time a piece of paper is handled, no more lost order slips and its better for the environment!
I left the CanDoCafe with a spring in my step!  The informal nature of the event, having a running theme and structured questions to debate meant (for me at least) a really good opportunity to 'pick apart' some of the large and small challenges facing us.  I spoke to new colleagues in the region and debated with colleagues who I don't always get to see and network with.  Good ideas and practice were shared.  I came away with some ideas that I would like to explore for the library service I work in.  Isn't that the point and real success of an event.
I would encourage colleagues in the region to attend the CanDoCafes in the future.  The intention is to run them on a quarterly basis.  Better still don't just attend – get involved! You won't regret it 🙂